Are You Making These 6 Common Job Description Mistakes?
Are You Making These 6 Common Job Description Mistakes?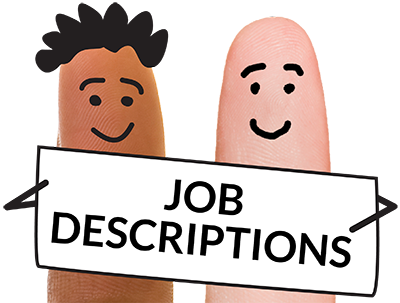 Sarah Visca | Jan 21, 2020
I was recently tasked with helping to create the newly released ConnectsUs HR Job Descriptions Kit . Being an HR newbie, I had no idea that having a standard format job description for every position was such a critical HR fundamental! I learned some important job description DO's and DON'Ts. I'd like to share some of these learnings and oversights with you, along with (more importantly) tips on how to avoid them!
Why are job description mistakes risky?
If the who, what, where, when and how of each position is not clear, it can cause a lot of confusion in your company and can affect your employee's ability to do their job effectively.
Common job description mistakes you want to avoid (and how):  ​
1. Your JD's are nonexistent!
Poorly written JD's are one thing. But to have no organizational structure at all… that's a recipe for disaster. Job descriptions are one of the 9 Essential Documents to set up a Department of Human Resources.
Tip: Create the templates. You'll see the ROI.
2. You have unrealistic expectations.
You've fallen into the common trap: Your job description demands unnecessary or unrealistic qualifications or experience from candidates.
Tip: Focus on the essentials. Know exactly what you're looking for. Ask yourself: What will make someone excel in this position? What skills and success traits are fundamental for this work? If the accounting clerk doesn't need an MBA, don't include an MBA – not even 'MBA preferred'.
3. You're not the best person to write the JD.
Yes, you're a good (maybe even great) manager who's ready to craft some awesome job descriptions. But that doesn't mean you're the best person to create them. You probably don't know the ins and outs of each position.
Tip: Don't tackle the task alone. Invite the current job incumbent or someone very familiar with the position to help write the JD. Only the person sitting in that seat knows what the job is now, what it isn't anymore, what it maybe never was, and what it could be. 
4. Your JD's are stale.  
Your job descriptions are staler than a Christmas fruitcake and two fruitcakes have come and gone since you last updated them. 
Tip: The job description is a living, breathing document. It should be revisited at least once a year. The perfect time to review it is:
when participating in salary surveys

when someone communicates they're overworked

when someone asks for a raise

during salary review period

after a new employee's probationary period is completed

when performance reviews are conducted

when someone leaves and you have to hire a replacement. (See mistake #5)
​5. You're not taking advantage to make changes when an employee leaves.
Tip: When someone leaves - review that job description. It's the perfect time to re-evaluate a position. Are there any skills or experience that a new person could bring to this role that were not possible or considered with the previous employee? How can managers take the position and your department to the next level with this new hire?
Encourage managers to be creative and think outside the box. This is a new opportunity to 'up the game' for the department and maximize the value of the position.
This can also be the ideal opportunity to reclassify the position. Job sharing or part time work are options that can always be considered.
6. You're not optimizing the employee's chance of success during the probationary period.
A non-existent or poorly written job description leads to unclear expectations and ultimately failure during a new hire's probationary period. It's demotivating and stressful for the employee when they don't know how their performance will be measured.
It is critical that setting the terms of the probationary period be a key component of your employment agreement or transfer letter. This includes documenting success factors and traits so the incumbent knows what to expect and how their performance will be measured.
Establishing concrete and measurable goals will be a straightforward process for any Hiring Manager who has a solid understanding of the position and the department. Completing this form may be more challenging for new positions, since the true nature and scope of the position is relatively unknown. This form will be easily completed for existing positions with history. The manager can identify what has worked and hasn't worked in the position and include these as success factors in the form.
Tip: You don't just want to present the JD to your new hire as the only reference for success in the job. The probationary period is a bit different than a standard performance review period since the job description assumes relative or full competency in the position.
During the probationary period, the job description should be supplemented with specific expected accomplishments and success factors specific to the probationary period.  For example:
By the end of the first 3 weeks, process time cards autonomously without the support of the trainer.
By the end of 2 months, be able to independently answer the majority of prospects' questions about our products & services.
By the end of the probationary period, is able to independently create blog posts.
Understands how to independently get the answers to questions.
Able to interpret callers' questions and direct their calls to the appropriate individual for resolution.
Establish a strong working relationship with plant managers.
Understand and accurately input clerical accounting data into accounting software independently without help or verification from others.
Show strong compatibility and fit with team. Able to get work done through people. Find ways to get buy-in. Build productive relationships & able to resolve conflict.
Main take away?
Job descriptions are core to several areas in HR and help us determine how critical a job is, and how it relates to other jobs and is a primary tool for setting performance expectations and evaluating individual performance against them. 
If an employee continuously fails to fulfill the expectations of their job description, chances are that you'll be (politely) showing them the door. But if your JD's fall into the danger zone of any of these common mistakes.. maybe it's the job description that should be shown the door, not the employee.
Crafting JD's that are of any value takes consideration, time and energy. But don't worry! You don't have to start from scratch. Check out our new 30 completed job description templates common to all small businesses. Written and formatted in ConnectsUs HR style! Easily plug and play to create compelling job postings for high-calibre prospects. 
Because it's always easier to edit than create.
---