Employee Manual
Create your Employee Manual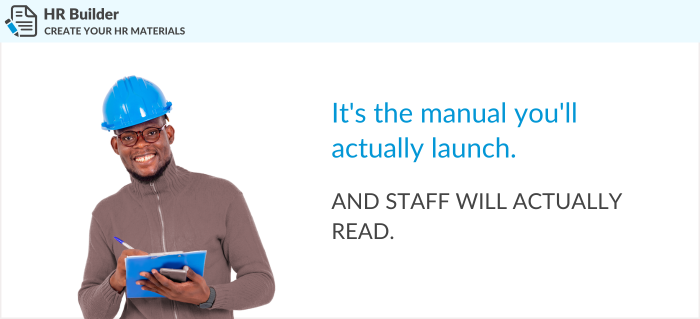 The Employee Manual Kit is the most popular ready-to-assemble kit included in the HR Toolkit.  
What's Included
 
3 Employee Manual Templates
Approximately 225 topics for Ontario, Alberta, BC.  Don't operate in Canada?
Serves as a comprehensive menu of topics that can easily be edited
Professionally-written and styled
Preview the table of contents for each province below:
Specialized Employee Manual Templates 
For example: 
Fully-remote employers without a physical location requiring different language & policies.

Employers who offer Unlimited PTO which affects vacation & legislated leaves policy language.
Acknowledgment Sign-off Form
Step-by-Step Instructions


Ideal for small business. Get the step-by-step instructions you need to create your employee manual. 

Topics include: 
Overview
Project Checklist
Getting Started

Preview | Download Templates

Topics/Policies Help
1. Customize | Edit
2. Format & Style
3. Launch your Manual
4. Get Employee Sign-Off
5. Maintain your Manual
Example/Specialized Manuals
See an example. View the entry page to the Employee Manual Kit.