COVID-19 & Legislation Updates | Weekly Workplace Recap from September 17 to September 23, 2021
COVID-19 & Legislation Updates | Weekly Workplace Recap from September 17 to September 23, 2021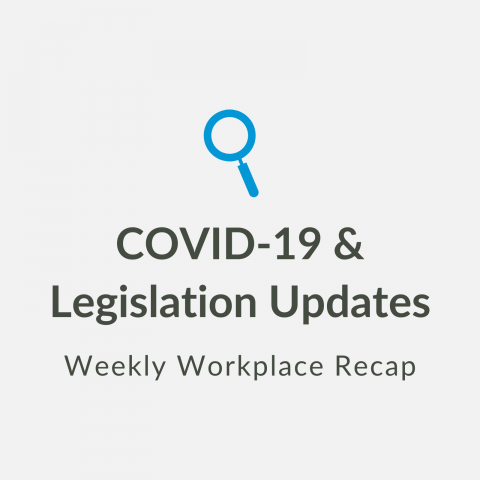 Sarah Visca | Sep 22, 2021

Below are the key COVID-19 & legislation topics  that touch on the workplace from September 17 to September 23, 2021.
---
Federal
Dining out, salons, gyms and more: COVID-19 restrictions by province and territory
With a fourth wave of COVID-19 taking hold in Canada, provinces and territories are implementing measures to prevent major outbreaks. Some have had to roll back their reopenings, while others have returned to a state of emergency.
---
Ontario
COVID-19 infectious disease emergency leave extended until January 1, 2022
Pursuant to O. Reg. 650/21: Infectious Disease Emergency Leave, the Government of Ontario has extended the "COVID-19 period" under O. Reg. 228/20: Infectious Disease Emergency Leave (the "IDEL Regulation") until January 1, 2022.
The "COVID-19 period" now means the period beginning on March 1, 2020 and ending on January 1, 2022.
Find out more. 
---
Alberta
Public health and business restrictions effective September 20 
Alberta has declared a state of public health emergency. New measures to protect the health care system, stop the spread, and increase vaccination rates came into effect starting September 16 and September 20. 
Business restrictions for the following industries are available in the link below:
Entertainment, event and recreation facilities
Restuarants, cafes, bars, pubs and nightclubs
Retail, shopping malls and food courts
Sport, fitness and performance activities
Find out more.
---
British Columbia
Options for B.C.'s permanent paid sick leave is available for comment
British Columbians are invited to have their say on three proposed options for permanent paid sick leave shaped by their responses to the first phase of consultation.
The options paper has been posted on government's engagement site and is available for comment until Oct. 25. Three options have been developed that cover the minimum number of days: three, five and 10 days of paid sick leave.
Click here to leave a comment on the engagement site.
---
Mandatory Vaccinations
This topic now has its own section as the topic heats up and the list of employers who announce mandatory Covid-19 vaccinations grows.
---
ConnectsUs HR Toolkit now includes Mandatory Vaccination Policy & Vaccine Passports!
Find out more.
---
Half of Canadians support employers mandating COVID-19 booster shots, poll finds.
Around half of surveyed Canadians say they support employers mandating COVID-19 vaccine booster shots for their employees, a new poll finds, with Canadians 55 and older being the most in favour.
---
Ontario's vaccine passport: What you need to know
A COVID-19 vaccine passport system kicks in Wednesday, Sept 22 in Ontario, requiring people to show proof of vaccination for entry into thousands of non-essential venues across the province. 
Restaurants, bars, sports venues, gyms, theatres, cinemas and casinos are among the locations where staff must ask patrons to show certification that they received two doses of an approved vaccine at least two weeks before, along with identification that matches their vaccination document. 
The following links will help shed light on how Ontario's vaccine passport system will work:
News Release
OHRC policy statement on COVID-19 vaccine mandates and proof of vaccine certificates
---
Alberta ​Restrictions Exemption Program underway
The Restrictions Exemption Program allows eligible businesses, venues and services to be exempt from capacity and operating restrictions. If they do not implement this program to help protect patrons and prevent the spread of COVID-19, they are required to adhere to all public health measures now in effect.
Temporary health measures are now in effect for restaurants, weddings and funerals, retail, entertainment venues and adult sport and fitness to help slow the spread of COVID-19.
Find out more. 
---
Alberta's COVID-19 vaccine passport system begins September 19
Albertans will now have a simpler, more convenient way to get proof of their COVID-19 vaccination. Starting on September 19, Albertans can access a convenient card-sized proof of vaccination easily and quickly on alberta.ca/CovidRecords without creating an online account. 
Find out more.
---
B.C. expanding vaccine mandate to all health-care facilities next month
Effective October 26, 2021, vaccination against COVID-19 will be a condition of employment for employees at all B.C. healthcare facilities. This will include all workers, students, physicians, residents, contractors and volunteers who work in healthcare facilities, including contracted facilities. It will also include those working in settings such as home and community care facilities, including client homes.
Find out more.
---