COVID-19 & Legislation Updates | Weekly Workplace Recap from March 18 to March 24, 2022
COVID-19 & Legislation Updates | Weekly Workplace Recap from March 18 to March 24, 2022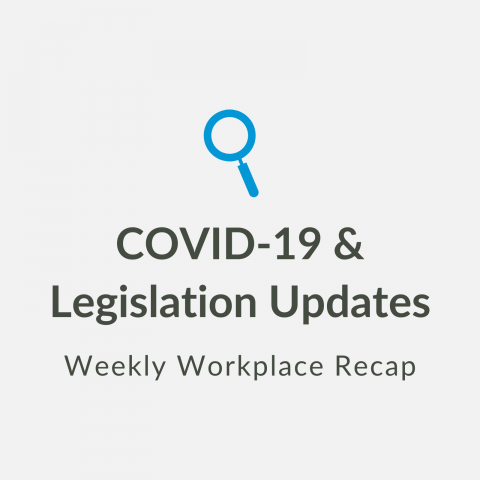 Sarah Visca | Mar 24, 2022

Below are the key COVID-19 & legislation topics that touch on the workplace from March 18 to March 24, 2022.
---
Federal
Federal government is "examining" all vaccine mandates
Canada's chief public health officer said Friday, March 18, that the federal government is actively reviewing all of its vaccine mandates with an eye to ending rules that force some people to get their COVID-19 shots.
Speaking at a press conference with reporters, Dr. Theresa Tam said the country's public health officials are at a "very important juncture" and COVID-19 policies may soon shift from "an emphasis on requirements to recommendations."
---
Ontario
Ontario removes most face mask requirements as of March 21
Ontario has lifted its masking requirements in most indoor settings. This change comes a few weeks after the province lifted proof-of-vaccination rules and capacity limits.
As of March 21, 2022 masks are no longer required in settings such as retail stores, bars, restaurants, gyms, community centres or museums. Masks will continue to be mandatory in high-risk and congregate settings including on public transit, in long-term care and retirement homes, health-care settings and shelters.
The official Ontario Face coverings and face masks webpage provides up-to-date requirements as well as additional resources for employers navigating masks in the workplace. 
---
Alberta
Updates on public health restrictions in Alberta
Here are some of the latest updates on public health restrictions in Alberta: 
Hundreds of Alberta health-care workers — on unpaid leave because they're not immunized against COVID-19 — are expected back on the job by March 31, after the provincial government directed Alberta Health Services to lift its vaccine mandate.

The Alberta government has introduced legislation to limit the authority of municipalities to impose COVID-19 mask and proof of vaccine rules. Municipal Affairs Minister Ric McIver said on March 8 that municipalities will now need provincial approval to pass such strictures on private businesses.

Nearly all pandemic public health measures were lifted in the province as of March 1, as the Alberta government launched Step 2 of its reopening plan. 

This phase removes indoor masking, remaining school requirements, youth screening for entertainment and sports, removal of capacity limits on all large venues and entertainment venues, limits on indoor and outdoor gatherings lifted and mandatory work from home lifted. 

Masking is still required in high-risk settings including Alberta Health Services-operated and contracted facilities, all continuing care settings, and on municipal transit services. The rule does not cover private services such as taxis or Uber trips.
More updates are available in the link below.
---
British Columbia
Businesses will no longer require proof of vaccination and COVID-19 safety plans on April 8
The B.C. government recently announced that starting March 11, 2022, masks are no longer required in public indoor settings under a public health order.
Further restrictions will be lifted on April 8, 2022 at 12:01 am, including the following:
Proof of vaccination will no longer be required under public health order to access businesses, events and services

Individual businesses and event organizers can choose to continue requiring proof of vaccination for entry
Federal proof of vaccination is still required for federally regulated travel, like air travel

Businesses will no longer need a COVID-19 safety plan. They must follow communicable disease guidance from WorkSafeBC.
---
Preventing bullying and harassment in the workplace a priority for WorkSafeBC in 2022
As part of its 2022 initiatives, WorkSafeBC will be focusing resources on the Bullying, Harassment and Prohibited Action Initiative.
This initiative will have a strong focus on small businesses, vulnerable industry sectors, and industries with a large number of complaints submitted to WorkSafeBC.
As part of this initiative, WorkSafeBC's focus in 2022 will be:
Promoting

employer

compliance to prevent and minimize bullying and harassment, including employers having effective policies, procedures, and training in place.
Providing prompt responses to complaints of prohibited action, in which an employer penalizes a worker for raising a health and safety issue at work.
Ensuring employer responses to workplace harassment are fair and impartial (including investigating and implementing preventative and corrective measures.)
Responding to complaints of inadequate harassment procedures or inadequate responses to harassment by employers.
Conducting targeted outreach and inspections for employers in the hospitality, retail, and small business sectors.