COVID-19 & Legislation Updates | Weekly Workplace Recap from August 20 to August 27, 2021
COVID-19 & Legislation Updates | Weekly Workplace Recap from August 20 to August 27, 2021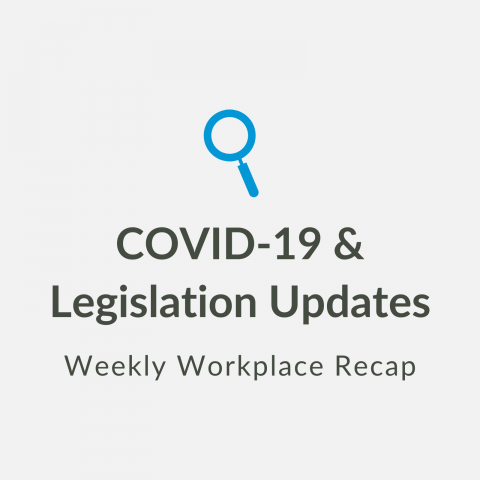 Sarah Visca | Aug 27, 2021

Below are the key COVID-19 & legislation topics  that touch on the workplace from August 20 to August 27, 2021.
Toronto Medical Officer of Health strongly recommending Toronto employers institute COVID-19 vaccination policy
Toronto's Medical Officer of Health, Dr. Eileen de Villa, is strongly recommending local employers institute a workplace vaccination policy to protect their employees and the public from COVID-19.
As part of the City of Toronto's ongoing response to the pandemic, Toronto Public Health is launching a workplace toolkit including guidance on developing a workplace vaccination policy. The policy should explain its purpose, specific actions workers must take including providing proof of vaccination status or a medical exemption, and timelines.
Ontario Further Extending Temporary Wage Increase for Personal Support Workers
The Ontario government is investing an additional C$169-million to extend the temporary wage increase for personal support workers and direct support workers for the third time since its initial investment last year. This increase will continue until October 31, 2021, and will help stabilize staffing levels and support our frontline health-care workers to ensure the province is prepared to respond to any scenario as the COVID-19 pandemic continues to evolve.
Ontario Government posted several regulations made under Reopening Ontario 
The Ontario Government has posted several regulations made under Reopening Ontario (A Flexible Response to COVID-19) Act, 2020, S.O. 2020, c. 17 as follows:
---
Alberta
Calgary businesses look at vaccine passports in lieu of a provincial system.
Some Calgary businesses say they want to establish their own proof of vaccination requirements as Premier Jason Kenney has shut the idea for a provincial system down several times.
---
British Columbia
Reinstates mask mandate to reduce transmission, protect people in public spaces.
As of Wednesday, August 25, 2021, masks must be worn in all indoor public spaces throughout B.C. to help slow the transmission of COVID-19 as B.C. prepares for the fall and respiratory illness season. A new order from the provincial health officer will require people 12 and older to wear masks in indoor public settings, regardless of vaccination status.
Launches proof of vaccination to stop spread of COVID-19.
A new order from the provincial health officer will require individuals to provide proof of vaccination to access a broad range of social, recreational and discretionary events and businesses throughout the province. As of September 13, one dose of vaccine will be required for entry to these settings. By October 24, entry to these settings will require people to be fully vaccinated at least seven days after receiving both doses. To enter certain spaces, including indoor ticketed sporting events, indoor and patio dining in restaurants, fitness centres, casinos and indoor organized events, like conferences and weddings, people aged 12 and older will be required to show their proof of vaccination.
Provincial Health Officer Releases COVID-19 Vaccination status Information and Preventive Measures Order
 You can find the new orders here. 
B.C. Human Rights Tribunal dismisses complaint from woman denied service for not wearing a mask
B.C.'s Human Rights Tribunal has dismissed a complaint from a woman who argued that a jewelry store discriminated against her by refusing to serve her when she declined to put on a face mask.
The complainant, Shera Rael, was refused service at Cartwright Jewelers in New Westminster on July 31, 2020, according to the decision issued Thursday by tribunal member Paul Singh.
Notice of Repeal of the Travelers and Employers Order. August 23, 2021. 
Read the notice here. 
Small Business? Get heard! Submit your feedback on Permanent Paid Sick Leave
Reminder! In May, the government tabled legislation that will provide workers with a paid sick leave program during the pandemic and afterward, including permanent paid sick leave. The province is now inviting the public to have a say as it develops a permanent policy for paid sick leave. 
A public survey opened online to gather information from employers and workers on the kinds of paid illness and injury leaves currently provided, and how they are meeting workers' needs. This survey will be open until September 14, 2021.
---
Mandatory Vaccinations
This topic now has its own section as the topic heats up and the list of employers who announce mandatory Covid-19 vaccinations grows.
---
ConnectsUs HR Toolkit now includes Mandatory Vaccination Policy Template!
Find out more
 
---
Two-thirds of employers support mandatory vaccinations
As many employers gear up to return employees to the workplace, 62 per cent of Canadian small- and medium-sized businesses are making or plan to make COVID-19 vaccinations mandatory for their employees, finds a new poll by KPMG in Canada.
---
Federal workers refusing vaccine need alternatives: union
The federal government should not discipline or terminate the employment of public service workers who refuse to take COVID-19 vaccine shots, according to the Public Service Alliance of Canada (PSAC).
The group issued the statement after Ottawa announced it will require employees in the federally regulated air, rail and marine transportation sectors to be vaccinated and Prime Minister Justin Trudeau said those who refuse would face "consequences."
"PSAC supports vaccination requirements for federal workers to ensure the safety of our members in their workplaces, and to protect our communities, but using discipline and termination to enforce them is unacceptable," says the group.
---
Employers announcing Mandated Vaccination

City of Toronto institutes Mandatory Vaccination Policy
Find out more
---
Toronto police to require proof of COVID-19 vaccination for all staff by September 13
The Toronto Police Service says it will require all uniformed and civilian staff to be fully vaccinated against COVID-19 by September 13, following a number of other Ontario public sector entities that enacted vaccine policies in recent weeks.
Find out more
---
A group of Canadian long-term care operators to enforce mandatory COVID-19 shot policy.
Find out more
---
TIFF to require proof of vaccination or negative COVID-19 test for staff, audience members.
Find out more
---
Blue Jays to require proof of vaccination or negative COVID test from fans 12 and over.
Find out more
---