Create your Client's Employee Manual
Create your Client's Employee Manual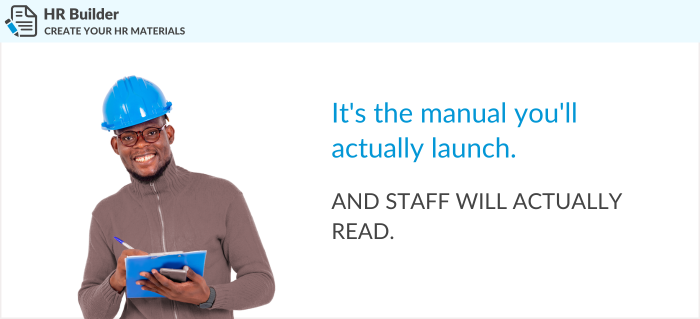 Our most popular ready-to-assemble kit is the Employee Manual Kit. 
What you Get
Comprehensive Employee Manual template - approximately 225 topics.  
Click for Ontario example table of contents.
For 3 provinces.  Don't operate in Canada?  
Acknowledgment Sign-off Form Template
Employee Manual Kit for step by step customization instructions.

Overview

Project Checklist

Getting Started

Preview/Download Templates

Topics/Policies Help

1.  Customize | Edit

2.  Format & Style

3.  Launch your Manual

4.  Get Employee Sign-Off

5.  Maintain your Manual

Search Policies
View Sample Policy Manual

Click here to view a condensed sample employee manual to provide you with a sense of its language and structure that includes all main headings and 32 policies out of a menu of 225 policies.