COVID-19 & Legislation Updates | Workplace Recap from May 6 to May 19, 2022
COVID-19 & Legislation Updates | Workplace Recap from May 6 to May 19, 2022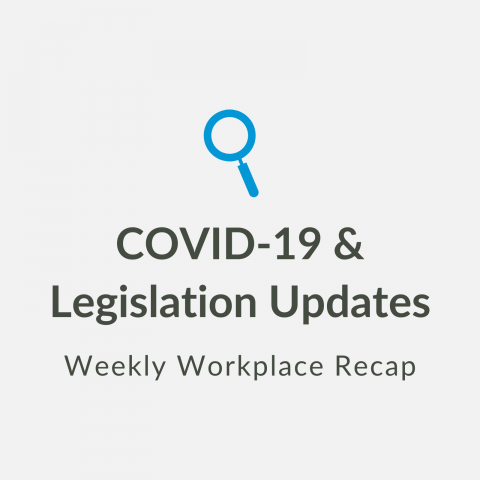 Sarah Visca | May 19, 2022

Below are the key COVID-19 & legislation topics that touch on the workplace from May 6 to May 19, 2022.
---
Federal
Canada begins asking ineligible CERB recipients to repay
The Canada Revenue Agency (CRA) has begun issuing Notices of Redetermination (NoRs) to individuals who received the Canadian Emergency Response Benefit (CERB) but are not eligible for it so they can repay them. The announcement came as Canada's unemployment rate hits a historic low of 5.2%, with the jobs loss amid the pandemic already recovered.
According to the CRA, those who receive the NoRs but still believe they are still eligible for the payments may contact the agency to validate their claim.
---
Ontario
Ontario court overturns ruling on COVID-19 IDEL layoff
The Ontario government's response to the covid-19 pandemic and the imposition of unilateral covid-19 layoffs was the subject of a recent decision by the Ontario Court of Appeal in Taylor v. Hanley Hospitality Inc.
On Tuesday, the court ruled that the employer had chosen the wrong means to have the lawsuit resolved and overturned the lower court's decision dismissing Ms. Taylor's action.
Takeaway for Employers
A layoff will likely be viewed as a constructive dismissal by the courts if it is not authorized by a contractual term or past practice. The obligation to provide an employee with fair notice of termination or severance pay has not changed as a result of the pandemic, especially where the employer has maintained some operations.
---
Alberta
Alberta clarifies new bereavement leave will include abortions
The Alberta government is proposing a change to the language used in its Labour Statutes Amendment Act to clarify the inclusion of those who will undergo abortion or terminate their pregnancy for medical reasons.
Introduced in April, the bill was set to provide job-protected bereavement leave for parents experiencing a miscarriage or stillbirth. The phrasing of the proposed amendment does not actually use the word "abortion."
On Tuesday, Labour Minister Kaycee Madu introduced an amendment to change the wording. It proposed the words "miscarriage" and "stillbirth" be replaced with "any pregnancy that ends in a result other than a live birth," according to Global News.
---
British Columbia
WorkSafeBC approves 2022–2024 Occupational Health and Safety Regulation Workplan
At their March 30, 2022 meeting, WorkSafeBC's Board of Directors approved the Policy, Regulation and Research Department's 2022–2024 Occupational Health and Safety Regulation Workplan.
The  Board also approved the Policy, Regulation and Research Department's 2022–2024 Policy Workplans. These workplans include policy priorities relating to compensation, occupational disease, assessments, and occupational health and safety.