COVID-19 & Legislation Updates | Workplace Recap from May 20 to June 2, 2022
COVID-19 & Legislation Updates | Workplace Recap from May 20 to June 2, 2022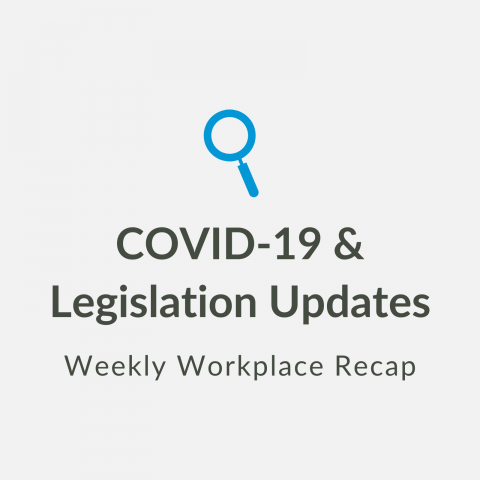 Sarah Visca | Jun 2, 2022

Below are the key COVID-19 & legislation topics that touch on the workplace from May 20 to June 2, 2022.
---
Federal
COVID-19 measures to remain at border for at least another month
COVID-19 restrictions at the border will remain in place for at least another month.
Several pandemic restrictions are in place at Canadian airports and land borders, including vaccine mandates, random COVID-19 tests and the requirement that international travellers answer pandemic-related questions on the ArriveCan app. Travellers must also wear masks on planes and passenger trains.
As for when the mandates will be lifted, Transport Minister Omar Alghabra said he doesn't know but the government is consulting with experts and other jurisdictions.
---
Ontario
Ontario's right-to-disconnect policy takes effect today
As a result of the Working for Workers Act, 2021, Ontario employers with 25 or more employees as of January 1, 2022 have until today, June 2, 2022 to implement a written policy on disconnecting from work.
Disconnecting from work policies must be in writing, and pertain to employees not engaging in work-related communications, including emails, telephone calls, video calls or sending or reviewing other messages, and being free from the performance of work.
Importantly, disconnecting from work policies don't create any new legal rights regarding disconnect from work. Therefore, it's important for an employer to draft its policy regarding disconnecting from work carefully to prevent the unintentional creation of a greater right or benefit for employees than required by the ESA.
A Right to Disconnect policy can be found in the Staff Policies section in all our Employee Handbooks or Employee Manuals. 
---
Alberta
Alberta unveils Respectful Workplace Policy for political staff
Following a comprehensive review on resources policies, the government of Alberta has released a new Respectful Workplace Policy for political staff in the province.
The new policy contains detailed information on how to make a complaint, how investigations are conducted, what the consequences are for a violation, and definitions of various types of workplace harassment.
It covers all political staff in the government of Alberta, including those employed in the Office of the Premier as well as ministerial offices.
---
British Columbia
B.C. doesn't expect restrictions to return even as COVID-19 spreads through workplaces
As some businesses in B.C. report staffing shortages and operational challenges due to COVID-19, the province's health minister says he doesn't expect restrictions to return anytime soon.
The Health Ministry says vaccines continue to be the main tool for managing COVID-19 in the long term and people are encouraged to get a booster dose if they have not yet had one. 
The ministry also encourages people to stay home when they're not feeling well and wear a mask when appropriate.