COVID-19 & Legislation Updates | Workplace Recap from March 25 to April 7, 2022
COVID-19 & Legislation Updates | Workplace Recap from March 25 to April 7, 2022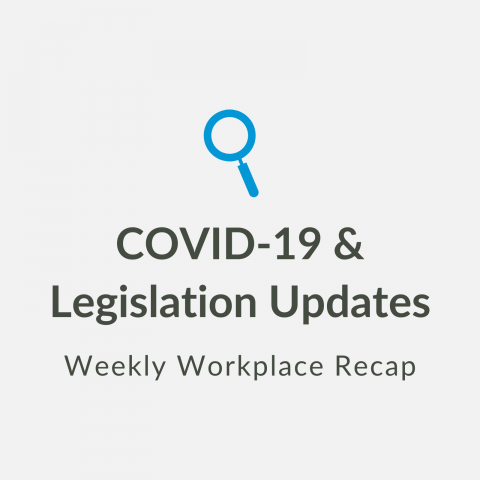 Sarah Visca | Apr 7, 2022

Below are the key COVID-19 & legislation topics that touch on the workplace from March 25 to April 7, 2022.
---
Federal
Feds announce changes to TFW program to address labour shortages
The federal government has announced major changes to the Temporary Foreign Worker (TFW) Program. The TFW Program Workforce Solutions Road Map is meant to address labour shortages, enhance worker protections and build a stronger workforce, including through pathways to permanent residency.
Five key policy changes will be implemented in the coming weeks, and the changes taking effect immediately include: 
There will no longer be a limit to the number of low-wage positions that employers in seasonal industries can fill through the program. Also, the maximum duration for these positions will be increased from 180 days to 270 days per year.
Labour Market Impact Assessments (LMIAs) will now be valid for 18 months instead of nine months. LMIAs were valid for six months pre-pandemic.
The maximum duration of employment for High-Wage and Global Talent Streams workers is increasing to three years from two years. This extension will help workers access pathways to qualify for permanent residency, enabling them to contribute to our workforce for the long-term, according to the government.
Meanwhile, by April 30, employers in several sectors with demonstrated labour shortages will be allowed to hire up to 30 % of their workforce through the TFW Program for low-wage positions. This will be valid for one year.
---
Ontario
Ontario promises minimum wage increase to $15.50 in October
Ontario's minimum wage is set to increase by 50 cents this fall. This 8% increase over one year will help workers keep up with rising costs and inflation.
The proposed wage increase to $15.50 per hour would take effect on October 1, 2022. Ontarians are expected to go to the polls in June, and all three major parties are already promising some form of increase to the minimum wage in response to high living costs.
---
Alberta
Updates on public health restrictions in Alberta
Here are some of the latest updates on public health restrictions in Alberta: 
Nearly all pandemic public health measures were lifted in the province as of March 1.
This phase removes indoor masking, remaining school requirements, youth screening for entertainment and sports, removal of capacity limits on all large venues and entertainment venues, limits on indoor and outdoor gatherings lifted and mandatory work from home lifted. 
Masking is still required in high-risk settings including Alberta Health Services-operated and contracted facilities, all continuing care settings, and on municipal transit services. The rule does not cover private services such as taxis or Uber trips.
As of Feb. 14, there are no masking requirements for children and youth 12 years old and younger and no masking requirements for children and youth in schools for any age.
Stage 1 took effect Feb. 16 and removed the restrictions exemption program. 
Premier Jason Kenney says the province is working toward a third stage, which does not have a date, where people would no longer be required to isolate if they have COVID-19, and COVID operational and outbreak protocols will be lifted in continuing care facilities. 
Health Minister Jason Copping said the stages are all conditions-based approach, based on hospitalization trends. 
More updates are available in the link below.
---
British Columbia
B.C. is making changes to simplify paid sick leave
Some changes have been made to simplify BC's paid sick leave legislation.
Two issues were addressed in the changes to the province's Employment Standards Act that have been raised since the five days of paid sick leave were introduced on Jan. 1, 2022.
First, the term "employment year" has been scrapped. Now, "calendar year" is being used which standardizes the entitlement for all employees – regardless of the start of their employment.
In the second case, there were concerns that some employees were excluded from the full five days due to the wording in collective agreements. Now, that specific clause is being amended to make sure all employees in BC receive their paid sick leave.
These changes will be effective upon Royal Assent, which is expected before the end of the current legislative session.
---
B.C. vaccine card requirement to be dropped April 8
Starting on Friday, April 8, 2022, at 12:01 a.m., the following changes will take place:
Showing the BC Vaccine Card proof of vaccination to access events, services and businesses will no longer be required.

individual businesses and organizations can choose to continue requiring the BC Vaccine Card on their premises.

The remainder of the Workplace Safety Order will expire, which means that businesses are transitioning back to communicable disease plans to reduce risk of all communicable disease.
The requirement for students residing in residence to be fully vaccinated under the Post-secondary Institution Housing COVID-19 Preventative Measures Order will be repealed.