COVID-19 & Legislation Updates | Workplace Recap from April 8 to April 21, 2022
COVID-19 & Legislation Updates | Workplace Recap from April 8 to April 21, 2022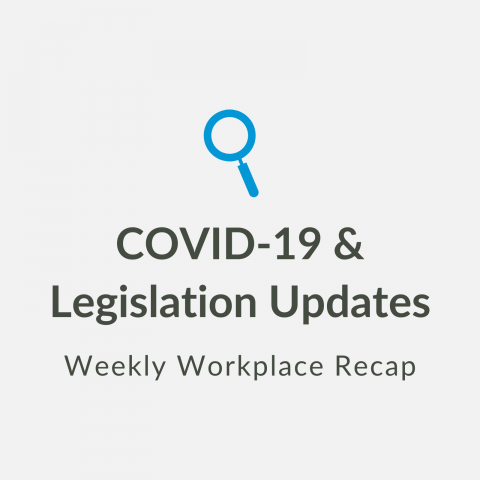 Sarah Visca | Apr 21, 2022

Below are the key COVID-19 & legislation topics that touch on the workplace from April 8 to April 21, 2022.
---
Ontario
Ontario looks at boosting WSIB payments
The Ontario government is exploring the idea of boosting compensation for workers who become injured or ill on the job.
It has directed the Workplace Safety and Insurance Board (WSIB) to explore an increase, while minimizing the impact on the board's financial health and employers' premium rates.
Currently, the WSIB provides injured workers with payments equal to 85% of their pre-accident take-home pay. The government and the board are considering raising this to up to 90%. For an injured worker who earns $60,000 a year, this increase could mean an additional $2,315 per year.
The Workplace Safety and Insurance Act would need to be amended to set a new compensation rate based on the finalized plan.
---
Alberta
Alberta invests $23 million in the Canada-Alberta Job Grant
As part of Alberta at Work, Alberta's government is investing an additional $23 million over three years in the Canada-Alberta Job Grant. This program helps employers hire Alberta workers, and helps businesses develop the skills they need to grow and diversify. Both unemployed and current employees can benefit if employers are eligible.
An additional $41 million over three years will support Alberta's Training for Work programs, which are available to service providers working with Albertans who are unemployed or marginally employed. It also supports people receiving income supports and under-represented groups that could include women, Indigenous people and newcomers to Canada.
---
British Columbia
B.C. plans to make it easier for workplaces to unionize
Employers in B.C. could soon face new challenges after the majority NDP government introduced a bill that would allow a workplace to join a union without a vote by employees.
Under the new amendments:
If 55% or more of employees in a workplace indicate their intent to unionize by signing union membership cards, a union will be certified and no further vote is required.
If between 45% and 55% of employees sign union membership cards, a second step consisting of a secret ballot vote is required for certification.
But what will this mean for employers? The legislation, once passed, will present challenges for employers who are facing a union drive and looking for an opportunity to present their case for rejecting unionization, according to a Vancouver employment lawyer.
---
WorkSafeBC releases strategic plan for 2022-26
The WorkSafeBC Strategic Plan 2022-2026 updates WorkSafeBC's vision, mission, and values, explains the organization's strategic choices, identifies environmental factors and potential risks, and defines desired outcomes and ways to measure progress.
The plan identifies short- and long-term challenges that must be addressed, including:
The changing nature of work, workplaces, and the workforce
Ongoing societal change (e.g., demographics, diversity, and inclusion)
Increasing expectations of stakeholders
Expectations of more personalized and worker-centred services
Increase in the complexity of injuries, including mental health and chronic pain
Significant impacts of technology and innovation.
Fourteen strategic priorities set out in the plan — and the desired outcomes — provide the framework for WorkSafeBC's business planning over the next five years.