COVID-19 & Legislation Updates | Workplace Recap from April 22 to May 5, 2022
COVID-19 & Legislation Updates | Workplace Recap from April 22 to May 5, 2022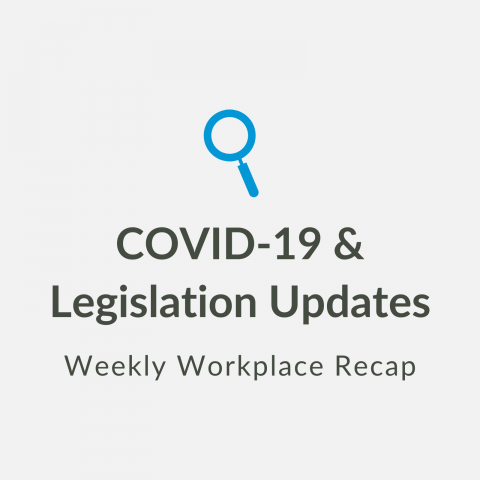 Sarah Visca | May 5, 2022

Below are the key COVID-19 & legislation topics that touch on the workplace from April 22 to May 5, 2022.
---
Federal
Feds looking for more feedback on EI changes
The federal government has launched the second phase of its consultations to make longer-term improvements to Canada's employment insurance (EI) program.
This second phase will focus on whether the amount and duration of EI benefits meet the objectives of the program and the needs of those contributing to EI. It will also look into the financial sustainability of the EI program by balancing costs with benefits and limiting the need for premium increases.
Stakeholders (worker and employer groups, other EI experts, and all Canadians) can provide feedback through this page. The government will also hold roundtable discussions with worker and employer groups and other EI experts beginning in mid-May. The consultation period will end July 29, 2022.
Canadians can learn more about Phase 1 from the What We Heard report from the government.
---
Ontario
Ontario continues masking requirements in select indoor settings
Provincial masking requirements which were set to expire on April 27, 2022 are being extended in current settings until 12:00 a.m. on June 11, 2022, including:
public transit;
health care settings (e.g., hospitals, doctors' offices, clinics that provide health care services, laboratories, specimen collection centres, and home and community care);
long-term care homes;
retirement homes; and
shelters and other congregate care settings that provide care and services to medically and socially vulnerable individuals.
A complete list of settings where masking requirements continue to apply is available online.
---
Alberta
Alberta expands bereavement and reservist leaves for employees
The Alberta government is proposing changes to provincial labour laws that will change bereavement leave and reservist leave policies for employees.
Bill 17, otherwise known as the Labour Statutes Amendment Act, will amend the Employment Standards Code to expand access to bereavement leave to employees who experience a miscarriage or stillbirth. Any employee who would have been a parent — including biological parents, adoptive parents and surrogates — will be eligible for bereavement leave.
All other rules for bereavement leave will remain the same.
Bill 17 will also remove the 20-day limit for employees on reservist leave. Removing this limit will allow reservists to complete their training duties while maintaining civilian employment without having to use other entitled leave days such as vacation days.
All other rules for reservist leave will remain the same.
---
British Columbia
WorkSafeBC introduces new online application for incident investigation reports
Employers are responsible for investigating certain incidents or near-misses that take place in the workplace and submitting an investigation report to WorkSafeBC.
To support employers in meeting this responsibility, WorkSafeBC is introducing a new online application to easily complete employer incident investigation reports (EIIRs) at each stage of your investigation and submit them to WorkSafeBC when required.
This new process can also help with your organization's health and safety, by enabling employers to:
Easily access an incident investigation report to see what actions are still required and what you must do to comply.
Grant access to the reports to the people in your organization who can put the necessary actions in place to comply with orders.
Support your health and safety planning by viewing your incident investigations history and tracking your progress on corrective actions taken.