COVID-19 & Legislation Updates | Weekly Workplace Recap from October 29 to November 4, 2021
COVID-19 & Legislation Updates | Weekly Workplace Recap from October 29 to November 4, 2021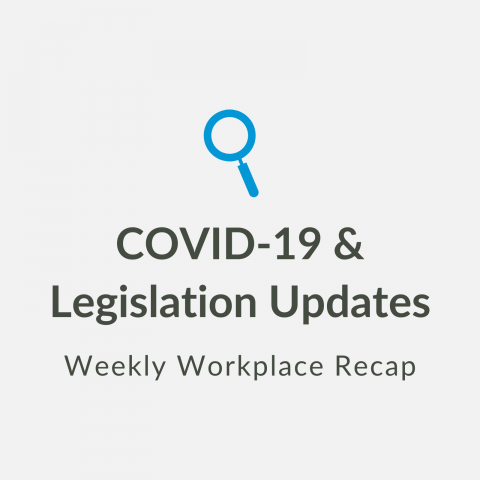 Sarah Visca | Nov 4, 2021

Below are the key COVID-19 & legislation topics that touch on the workplace from October 29 to November 4, 2021.
---
Federal
Government of Canada invites small businesses to develop an artificial intelligence decryption service 
Along with other Canadian law enforcement agencies, the RCMP is facing challenges in accessing encrypted data seized during the course of criminal investigations. Individuals engaging in illegal behaviours have been using sophisticated encryption techniques to bypass legal prosecution. The RCMP is looking for an artificial intelligence decryption system that can process the seized data files and generate specific word lists to try and access the encrypted material.
Through the Innovative Solutions Canada program, government departments are inviting small businesses to come up with a new innovative product, service or solution that answers a specific challenge they face. Winning small businesses may receive up to $150,000 to refine their research and development and, if accepted into phase 2, receive up to $1 million to develop a working prototype. The government can then act as a first customer, helping these businesses commercialize their innovations, scale up their business and create good middle-class jobs across Canada.
Small businesses will have until December 16 to apply to the challenge.
---
Ontario
Ontario to raise minimum wage to $15 an hour
As part of the 2021 Fall Economic Statement, the Ontario government will introduce legislation that, if passed, would raise the general minimum wage from $14.35 to $15.00 per hour effective January 1, 2022.
Under the proposed changes, the special minimum wage rate for liquor servers would be eliminated and they would be entitled to the general minimum wage. Students under 18, homeworkers and hunting, fishing and wilderness guides would also see an increase in their special minimum wage rates.
---
Alberta
Coming soon! New supports for businesses
REP Implementation Grant: A one-time payment of $2,000 to eligible Alberta small and medium-sized businesses who are eligible for and choose to implement the Restrictions Exemption Program. Full eligibility criteria and application details will be shared once finalized.
REP Training Grant: Eligible industry associations will be able to access funding to develop or procure safety training that helps workers assess and manage challenging situations when implementing the Restrictions Exemption Program. Workers and employers will be able to access this training through select industry associations.
Vaccine requirements: New legislation will be introduced to protect businesses that require vaccinations for employees or implement the Restriction Exemption Program from legal challenges.
Enforcement: Fines for contravening public health orders will double from $2,000 to $4,000.
---
British Columbia
Indoor mask mandate extended throughout B.C.
B.C.'s provincial health officer has extended the mask mandate that requires masks be worn in all indoor public spaces throughout B.C.
The previous order, which was set to expire on Oct. 31, 2021, has been extended to continue to slow the transmission of COVID-19. 
Masks are required in all public indoor settings for all people five and older, regardless of vaccination status. These settings include:
malls, shopping centres, coffee shops and retail and grocery stores;
liquor and drug stores;
airports, city halls, libraries, community and recreation centres;
restaurants, pubs and bars (unless seated);
on public transportation, in a taxi or ride-sharing vehicle;
areas of office buildings where services to the public are provided;
common areas of sport and fitness centres when not engaged in physical activity;
common areas of post-secondary institutions and non-profit organizations; and
inside schools for all K-12 staff, visitors and students.
---
Mandatory Vaccinations
This topic now has its own section as the topic heats up and the list of employers who announce mandatory Covid-19 vaccinations grows.
Employers announcing Mandated Vaccination
Transport Canada provides further details on new vaccine requirements
Travellers in the federally regulated air and rail sectors will need to be vaccinated against COVID-19. Transport Canada issued the final orders and guidance to airlines and railways to implement the vaccination requirements for travellers which are effective October 30, 2021.  Further requirements will become effective November 30.
---
Air Canada suspends more than 800 unvaccinated workers under new federal rules
Air Canada has suspended more than 800 employees for not being fully vaccinated against COVID-19 in line with federal rules. 
---
Ontario won't mandate COVID-19 vaccines for hospital workers
Premier Doug Ford has announced he will not mandate COVID-19 vaccines for hospital workers, saying he's "not prepared to jeopardize the delivery of care to millions of Ontarians."
---
B.C. finalizes proof of vaccination policy to protect workers
As the largest single employer in the Province's public sector, the Government of B.C. is safeguarding its workers, requiring that all direct government employees have the best defence against COVID-19 and variants by being fully vaccinated by Nov. 22, 2021.
---