COVID-19 & Legislation Updates | Weekly Workplace Recap from November 27 to December 2, 2021
COVID-19 & Legislation Updates | Weekly Workplace Recap from November 27 to December 2, 2021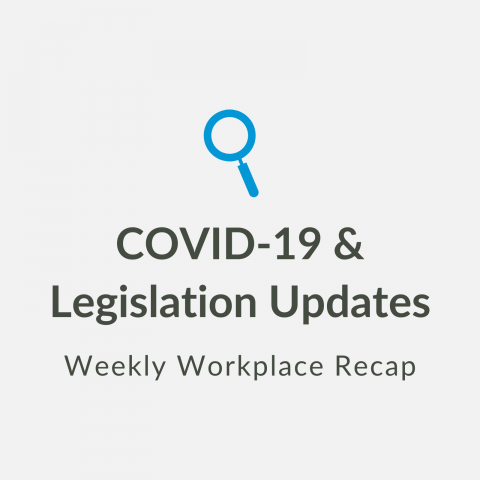 Sarah Visca | Dec 2, 2021

Below are the key COVID-19 & legislation topics that touch on the workplace from November 27 to December 2, 2021.
---
Federal
Free online courses provide guidance on safe return to work 
The Canadian Centre for Occupational Health and Safety (CCOHS) has released two free online courses to help workplaces and employees prepare for a safe return to work during the COVID-19 pandemic.
Return to Work During COVID-19 provides employers, managers, supervisors, and operations staff with an overview of COVID-19 control measures. The course discusses how to identify actions needed to prepare the building for occupancy, recognize the importance of communication with workers and identify if controls should be kept, revised, or discontinued. 
Return to Work During COVID-19: Preparing Workers is intended to help employers, managers, and supervisors prepare their workers for a safe return to the workplace during the COVID-19 pandemic. The course outlines steps to take and identifies considerations when preparing workers for their return.
Both courses are available for free on the CCOHS website.
---
Feds announce 10 days paid sick leave for federally regulated workers
On November 26, 2021, the Federal Government announced the introduction of Bill C-3 – An Act to amend the Criminal Code and the Canada Labour Code which, if passed into law, will amend the Canada Labour Code to provide for 10 days of paid sick leave per year for workers in the federally regulated private sector.
This is a significant development and follows shortly after BC's announcement last week to introduce paid sick leave for BC workers.
---
Feds announce new safety measures for health care workers
The federal government has proposed legislation to provide more protection for health care workers.
The new rules would amend medical leave under Part III of the Code. If passed, they would create a specific intimidation offence to protect health care workers, those who assist them, and persons seeking health services from circumstances where they are subject to any intimidating conduct.
---
Ontario
Bill 27: Right to disconnect passes in Ontario
Bill 27, or the Working for Workers Act, has officially been passed in Ontario. The act has two main components - the elimination of individual contracts of employment, permitting a non-competition restriction amongst employees, and the right to disconnect.
Right to disconnect
An employer with 25 or more employees as of Jan. 1, 2022 shall, before March 1, ensure it has a written policy in place for all employees with respect to disconnecting from work.
Non-compete clauses banned
The new rules also ban the use of non-compete clauses. No employer will be allowed to enter into an employment contract or other agreement with an employee that is, or that includes, a non-compete agreement.
---
Alberta
Changes to occupational health and safety laws take effect Dec. 1
An updated Occupational Health and Safety Act (OHS Act) and revised regulations took effect Dec. 1, 2021.
The new act eliminates duplication and simplifies language to make OHS laws easier to understand and follow, resulting in healthier and safer workplaces and supporting investment attraction and job creation. Workers continue to have the same rights and protections under the revised OHS laws.
---
British Columbia
Gathering restrictions in Interior Health region to end Dec. 1
Gathering restrictions in B.C.'s Interior Health region were relaxed Wednesday, Dec. 1, after a decrease in COVID-19 transmission in the area.
The region was placed under restrictions on Aug. 20 after a spike in transmission. Residents in the Interior will be able to host indoor and outdoor gatherings without capacity restrictions starting Wednesday.
---