COVID-19 & Legislation Updates | Weekly Workplace Recap from November 19 to November 26, 2021
COVID-19 & Legislation Updates | Weekly Workplace Recap from November 19 to November 26, 2021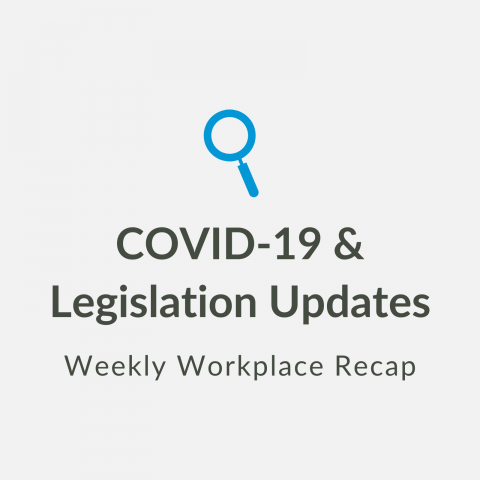 Sarah Visca | Nov 26, 2021

Below are the key COVID-19 & legislation topics that touch on the workplace from November 19 to November 26, 2021.
---
Federal
Government introduces Bill C-2 to create jobs and implement targeted COVID-19 support
On November 24, 2021, Ottawa introduced Bill C-2 in Parliament to implement recently announced measures. This bill would:
Extend the Canada Recovery Hiring Program until May 7, 2022, for eligible employers with current revenue losses above 10% and increase the subsidy rate to 50%.

Deliver targeted support to businesses still facing significant pandemic-related challenges. Support would be available through three streams:

Tourism and Hospitality Recovery Program, which would provide support through wage and rent subsidies to, for example, hotels, tour operators, travel agencies, and restaurants, with a subsidy rate of up to 75%. 
Hardest-Hit Business Recovery Program, which would provide support through wage and rent subsidies to other businesses that have faced deep losses, with a subsidy rate of up to 50%.
Local Lockdown Program, which would provide businesses that face temporary new local lockdowns up to the maximum amount available through the wage and rent subsidy programs.
The proposed legislation would also: 
Extend the Canada Recovery Caregiving Benefit and the Canada Recovery Sickness Benefit until May 7, 2022, and increase the maximum duration of benefits by 2 weeks. This would extend the caregiving benefit from 42 to 44 weeks and the sickness benefit from 4 to 6 weeks.
Establish the Canada Worker Lockdown Benefit which would provide $300 a week in income support to eligible workers who are directly impacted by a COVID-19-related public health lockdown in their region up until May 7, 2022.
---
Ontario
Ontario to extend emergency orders under Reopening Ontario Act
Ontario has extended the government's power keep all emergency orders in place under the Reopening Ontario Act until March 2022.
The emergency orders, which were set to expire on December 1, will be extended after a motion by Solicitor General Sylvia Jones was passed on Tuesday. The motion gives the Doug Ford government the power to extend emergency orders until March 28. Each order under the ROA must be extended by cabinet in 30-day increments.
---
Alberta
Restrictions Exemption Program safety training now available
The Restrictions Exemption Program Safety Training is available to employees of Alberta-based businesses and organizations who are implementing the REP and other COVID-19 safety requirements.
The 45-minute online training is available to employers and staff at no cost to help them assess and manage challenging situations that may arise during their daily operations.
The training includes information and resources that workers need to keep themselves and customers safe while implementing COVID-19 safety requirements, such as requesting proof of vaccination or a recent negative COVID-19 test, physical distancing or masking.
---
Restrictions Exemption Program updated for ski hill operators
Starting Nov. 29, ski hills can operate outdoor activities without implementing the Restrictions Exemption Program (REP) and trade shows can opt into the program.
Ski hill operators can implement the REP for indoor areas to permit indoor dining and other indoor activities. If participating in the REP, they are not required to adhere to physical distancing requirements for enclosed chairlifts and gondolas, but indoor masking is still required for enclosed areas.
The Restrictions Exemption Program allows eligible businesses, venues and services to be exempt from capacity, physical distancing and other operating restrictions. Businesses that implement the program must continue to follow mandatory indoor masking requirements.
---
QR code vaccine record updated for travel
Alberta's vaccine record will be updated to meet the recommended Canadian standard for domestic and international travel. The updated record will be available November 24 at alberta.ca/CovidRecords. It also includes middle names and the record is in both official languages.
---
British Columbia
Five paid sick days coming January 1
At least five days of paid sick leave each year will be standard for workers in the province beginning Jan. 1, 2022. This covers all workers covered by the Employment Standards Act, including part-time workers.
In September, the government announced it is looking for feedback on a permanent sick leave policy in the province. More than 60,000 people participated in the survey. Feedback from employers that already provide paid sick leave showed that most workers take between zero and five days of sick leave each year.
---
Bills upholding Indigenous rights receive royal assent
Last week on Nov. 17, 2021, tbe B.C. government introduced Bills 18 and 29 to further advance Indigenous human rights and reconciliation. On Nov. 25, 2021, those bills received royal assent.
Bill 18 adds Indigenous identity as a protected ground under the B.C. Human Rights Code. Through Bill 29, a non-derogation clause has been added to the Interpretation Act. This clause makes it clear that provincial laws uphold, and do not diminish, the rights of Indigenous Peoples as outlined under Section 35 of the Constitution Act, 1982.
---