COVID-19 & Legislation Updates | Weekly Workplace Recap from November 13 to November 18, 2021
COVID-19 & Legislation Updates | Weekly Workplace Recap from November 13 to November 18, 2021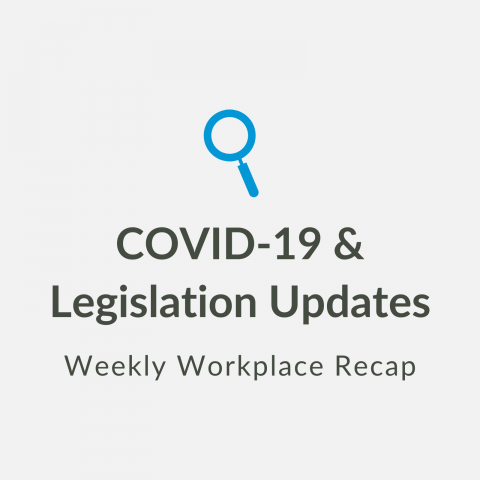 Sarah Visca | Nov 18, 2021

Below are the key COVID-19 & legislation topics that touch on the workplace from November 13 to November 18, 2021.
---
Federal
Feds invest $3.8 billion, promising $10-a-day child care across Alberta within next 5 years
Ottawa has come to an agreement with Alberta that will support childcare in the province.
"All families should have access to affordable child care. That is why we're making $10-a-day child care a reality across the country," says Prime Minister Justin Trudeau. 
Under the agreement, the federal government will invest $3.8 billion over the next five years to help create 42,500 new regulated early learning and child care spaces by the end of March 2026.
---
Ontario
Ontario invests $25 million in businesses in agri-food sector
The Ontario government is investing $25 million over three years to strengthen the agri-food supply chain. This funding will incentivize industry investment in projects that help address the processing capacity shortage and increase the sector's competitiveness and resilience against future disruptions.
Starting in 2021-22, the Strategic Agri-Food Processing Fund will provide grants of up to $3 million to agri-food processing businesses to invest in capital, equipment and technology. The initiative aims to increase processing capacity and productivity while also enhancing the food security of Ontarians.
Specific program details will be available upon the program's launch in the spring of 2022.
---
Alberta
Proof of vaccination to require QR code on November 15
Previous Alberta immunization records without a QR code, including ones from vaccine providers and those saved from MyHealth Records, will no longer be accepted as proof of vaccination by the program effective November 15. 
Patrons entering businesses and venues taking part in the Restrictions Exemption Program (REP) will be required to show one of the following:
Alberta vaccine record with a QR code
Canadian Armed Forces vaccine record
First Nations immunization record
Vaccine records issued by other provinces and territories
ArriveCan app for international travellers and valid international travel identity document
Negative privately paid COVID-19 test from within the previous 72 hours
Valid proof of medical exemption
---
British Columbia
Province introduces legislation to uphold Indigenous rights
The BC government has introduced two bills that further uphold Indigenous human rights and advance reconciliation with Indigenous Peoples.
On November 17, 2021,  Bill 18 was tabled to add Indigenous identity as a protected ground against discrimination in the B.C. Human Rights Code.
Bill 29 was also tabled, which amends the Interpretation Act to make it clear that all provincial laws uphold, and do not diminish, the rights of Indigenous people protected under section 35 of the Canadian Constitution. This is known as a universal non-derogation clause.
---
New Public Health Orders issued on November 12
 The following Public Health Orders were issued on November 12, 2021:
---