COVID-19 & Legislation Updates | Weekly Workplace Recap from March 11 to March 17, 2022
COVID-19 & Legislation Updates | Weekly Workplace Recap from March 11 to March 17, 2022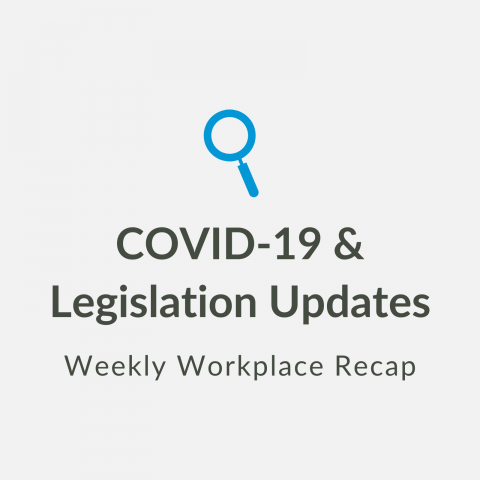 Sarah Visca | Mar 17, 2022

Below are the key COVID-19 & legislation topics that touch on the workplace from March 11 to March 17, 2022.
---
Federal
Canada adds 337k jobs in February, unemployment drops below pre-pandemic levels
Data released from Statistics Canada shed light on the current labour force in Canada – including how employment has rebounded in the past month.
The report found that employment climbed by 337,000 jobs in February – which helped to offset the loss of 200,000 jobs in January and dropped the unemployment rate to 5.5%, falling below the 5.7% level where it was in February 2020.
---
Federal minimum wage to rise to $15.55 an hour on April 1
Ottawa is increasing the federal minimum wage to $15.55 per hour from the current $15.00 per hour starting April 1.
The rate increase reflects the 3.4% annual average rise of the Consumer Price Index (CPI) for Canada in the previous calendar year, rounded up to the nearest $0.05, according to the federal government.
The change applies to workers and interns in federally regulated private sectors, including banks, postal and courier services, and interprovincial air, rail, road, and marine transportation.
There are roughly 18,500 employers in federally regulated industries, including federal Crown corporations, which together employ 955,000 people (about 6% of all employees in Canada).
---
Ontario
Bill 88: Ontario proposing more employment law changes
On the heels of the passage of the Working for Workers Act, 2021, Ontario introduced Bill 88, Working for Workers Act, 2022 (Bill 88) on February 28, 2022, and carried it at First Reading. 
If passed, Bill 88 will introduce the following key legislative changes, among others:
Creation of a new Digital Platform Workers Rights Act, 2022. 

Removing certain business consultants and information technology consultants from the scope of the Employment Standards Act, 2000 ("ESA").

A new employer requirement in the ESA for a policy on electronic monitoring. 

Reduce delays for certain individuals who apply for registration with certain regulated professions in Ontario.  

Amendments to the Occupational Health and Safety Act. 

The repeal of the Traditional Chinese Medicine Act, 2006. 
Bill 88 would come into force on the day it receives Royal Assent.
---
Alberta
Updates on public health restrictions in Alberta
Here are some of the latest updates on public health restrictions in Alberta: 
Hundreds of Alberta health-care workers — on unpaid leave because they're not immunized against COVID-19 — are expected back on the job by March 31, after the provincial government directed Alberta Health Services to lift its vaccine mandate.

The Alberta government has introduced legislation to limit the authority of municipalities to impose COVID-19 mask and proof of vaccine rules. Municipal Affairs Minister Ric McIver said on March 8 that municipalities will now need provincial approval to pass such strictures on private businesses.

Nearly all pandemic public health measures were lifted in the province as of March 1, as the Alberta government launched Step 2 of its reopening plan. 

This phase removes indoor masking, remaining school requirements, youth screening for entertainment and sports, removal of capacity limits on all large venues and entertainment venues, limits on indoor and outdoor gatherings lifted and mandatory work from home lifted. 

Masking is still required in high-risk settings including Alberta Health Services-operated and contracted facilities, all continuing care settings, and on municipal transit services. The rule does not cover private services such as taxis or Uber trips.
More updates are available in the link below.
---
British Columbia
B.C. boosting minimum wage to $15.65 an hour on June 1
B.C. is increasing its general minimum wage to $15.65 an hour from the current $15.20 per hour starting June 1. This will make it the highest minimum wage in all Canadian provinces. 
The 45 cent increase is based on B.C.'s average annual inflation rate in 2021. "At 2.8% for the year, B.C.'s inflation in 2021 was the highest since 1993", says Harry Bains, minister of labour.
---
Some B.C. businesses embrace mask mandates lifting, while others keep requirements in place
Just days after B.C. lifted its mask requirements in almost all public indoor spaces, businesses in the province are adjusting. While the easing of masking requirements has brought relief to some, it brings worry to others.
Many businesses are choosing to keep masking policies in place despite the end of the mask order. B.C. businesses ask for patience from customers who may enter a business with its own mask policy.