COVID-19 & Legislation Updates | Weekly Workplace Recap from July 23 to July 29, 2021
COVID-19 & Legislation Updates | Weekly Workplace Recap from July 23 to July 29, 2021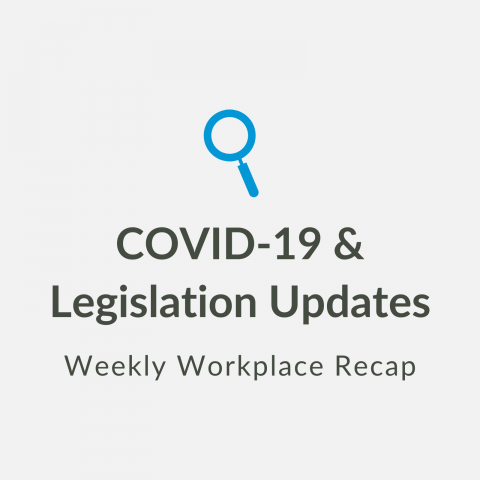 Sarah Visca | Jul 29, 2021
Below are the key announcements from the Federal, Ontario, Alberta and BC governments that touch on workplace legislation from July 23 to July 29, 2021.
---
Federal
Announces $15/Hour Minimum Wage for Federally Regulated Private Sector
Employment and Social Development Canada announces federal minimum wage of $15 per hour for workers in the federally regulated private sector, set to take effect on December 29, 2021.
Currently, federally regulated employees are subject to the minimum wage of the province or territory in which they are typically employed. Accordingly, federal employers could have employees occupying the same position but compensated differently because they are employed in different provinces or territories.
Further, the Canada Labour Code has been amended to provide that if the minimum wage of a province or territory is higher than the federal minimum wage, then the employer must pay a minimum wage that is not less than the higher minimum wage. This is currently only applicable to employers in Nunavut (minimum wage is currently $16 per hour), British Columbia (minimum wage is currently $15.20 per hour), and the Northwest Territories (minimum wage will be increasing to $15.20 as of September 1, 2021).
For more information, check out this news release. 
---
Ontario
Provides COVID-19 Featured Updates for Ontario Employers
The COVID-19: Help for Businesses in Ontario webpage has new featured updates and resources for employers:
For further Ontario small business resources and supports, check out this webpage. 
---
Alberta
Provides Information on Job-Protected Leaves, Temporary Layoffs and Variances
The Alberta government has published the COVID-19 information: employment standards guide, a document that provides employers with information on changes to Employment Standards rules due to COVID-19. 
The guidance document includes information on job-protected leaves, temporary layoffs and variances. 
Check out the COVID-19 information: employment standards guide.
---
Extends Critical Worker Benefit Applications to August 31
As Alberta's economy recovers, small and medium-sized businesses are focused on reopening and rehiring staff. The Critical Worker Benefit provides a one-time payment of $1,200 to eligible Albertans in recognition of their hard work to provide Albertans with the care and critical services they need.
Extending the deadline for applications until August 31 gives employers more time to apply as they focus on reopening their businesses.
Employers can apply now for the Critical Worker Benefit.
---
British Columbia
Increases General Working Age in BC from 12 to 16 
BC is bringing changes to the Employment Standards Act to better protect young people at work. Beginning October 15, 2021, the general working age in the province will go up from 12 to 16.
Prior to these changes, BC was the only province in Canada that allowed the employment of children as young as 12. In some cases, this involved hazardous situations or environments, such as construction sites or heavy-industry settings. As a result, young workers are injured on the job every year, with WorkSafeBC data reporting more than $1.1 million paid in job-related disability claims for workers 14 or younger between 2007 and 2016.
For more information, click here.  
---