COVID-19 & Legislation Updates | Weekly Workplace Recap from July 2 to July 8, 2021
COVID-19 & Legislation Updates | Weekly Workplace Recap from July 2 to July 8, 2021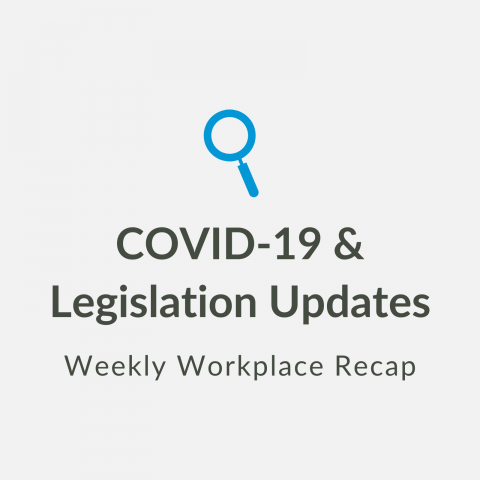 Sarah Visca | Jul 8, 2021
Below are the key announcements from the Federal, Alberta and BC governments that touch on workplace legislation from July 2 to July 8, 2021.
---
Federal
Approves $15 per hour Federal Minimum Wage Set for End of Year
A $15 per hour federal minimum wage for Canada has officially been approved in Ottawa. Starting December 29, 2021, this change will affect workers in the federally regulated private sectors, such as banking, telecommunications, and parts of the meat processing industry.
For more information, check out this article. 
---
Announces Revised Pay Equity Act which Comes into Force August 31
The Canadian government has announced the revised Pay Equity Act which will come into effect August 31, 2021. The revised act includes three main functions of education and promotion, dispute resolution, and enforcement and compliance measures.
Pay equity officers are developing a series of guidance and information documents that will help employers and employees to understand their obligations and rights under the Pay Equity Act. The first requirement for employers — with 10 or more employees — will be to post a pay equity plan by November 1.
Karen Jensen, federal pay equity commissioner says: "Employers have to evaluate the work done primarily by women and the work done primarily by men in their workplaces. They then have to make sure that the work done primarily by women that is of equal value to the work done primarily by men is paid the same. Once that exercise is complete, employers will have to pay any compensation adjustments owing and post their pay equity plans by 2024."
For more information, check out this news article. 
---
Offers Employers Wage Subsidies for Green Jobs
Employers interested in hiring youth for green jobs can now apply for government support.
The federal government is investing over $44 million through the Natural Resources Canada's Science and Technology Internship Program (STIP) to create green jobs and training opportunities for Canadians aged 15 to 30.
Green Jobs provides wage subsidies to eligible employers across Canada to hire and mentor youth in the natural resource sectors, including in energy, forestry, mining, earth science, and clean technology.
For more information, check out this news release. 
---
Alberta
Launches Work-Integrated Learning Pilot Program
The Alberta government is investing $3.6 million to help fund paid work-integrated learning placements for students with employers in Alberta's priority sectors.
Over the next three years, the Work-Integrated Learning Industry Voucher pilot program will provide about 650 students with a paid work placement to learn hands-on from professionals in their field.
Employers can apply for a grant of up to $5,000 per student placement, which will be matched by the employer.
For more information, check out this news release. 
---
British Columbia
Revises Employer Guidance for Developing a Communicable Disease Plan
As BC enters Step 3 of the provinces Restart Plan it triggers a new transition period in how COVID-19 is managed in workplaces. 
The updated Communicable disease prevention: A guide for employers describes a four-step process to help employers reduce the risk of communicable disease in their workplace. The guide has been revised to include a template that may be useful for employers in documenting and communicating their communicable disease prevention measures, practices, and policies.
Download the Communicable disease prevention: A guide for employers. 
---