COVID-19 & Legislation Updates | Weekly Workplace Recap from July 16 to July 22, 2021
COVID-19 & Legislation Updates | Weekly Workplace Recap from July 16 to July 22, 2021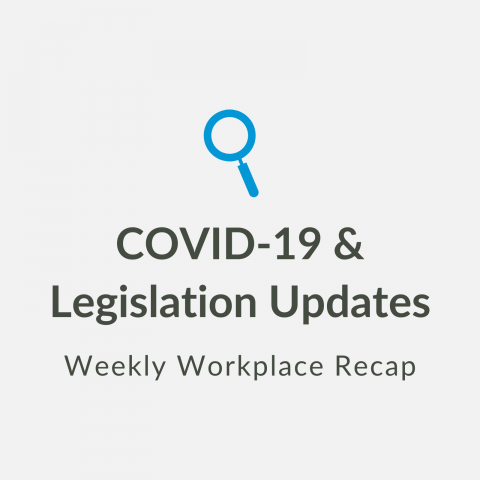 Sarah Visca | Jul 21, 2021
Below are the key announcements from the Ontario, Alberta and BC governments that touch on workplace legislation from July 16 to July 22, 2021.
---
Ontario
Invests $10 Million to Help Small Businesses Establish Online Presence
The Ontario government is investing $10 million towards the Digital Main Street program to help over 13,000 small businesses expand their digital presence and market their services online.
As businesses enter Step 3 of the Roadmap to Reopen, the renewed program will provide small businesses with $2,500 grants, technical training, and digital resources to help them reach more customers in person and online, positioning them for a stronger recovery.
Small businesses across Ontario with a brick-and-mortar location and one to 50 employees can apply for $2,500 Digital Transformation Grants, which they can use to purchase new technology and digital services.
For more information, check out this news release. 
---
Alberta
Updates OHS Guidance Documents for Businesses
All public health measures in Alberta have now been lifted except for isolation/quarantine requirements and masking requirements in health care settings and public transit.
In the event businesses would like to continue additional precautions, updated general guidance is available that offers optional mitigations that reduce the transmission risk of COVID-19 and other respiratory illnesses.
Businesses are required to continue to assess the risk of all biological hazards and control the identified risks based on occupational health and safety (OH&S) requirements. Here are a few resources:
For more information, check out more of Alberta's Guidance Documents. 
---
British Columbia
Releases "Proof of Vaccination" Guidance for Employers
As vaccination numbers rise, COVID-19 case numbers fall and public health restrictions loosen across BC, more and more employers are considering implementing vaccination status policies.  Examples of this sort of policy include requiring employees to prove they have been vaccinated before entering certain workplaces, or restricting unvaccinated individuals from entering a store. 
In recently released policy guidance, BC's Human Rights Commissioner outlines its view that vaccination policies need to strike a balance between upholding individual rights and protecting collective rights to health and safety. 
Download the Policy Guidance (PDF).
---