COVID-19 & Legislation Updates | Weekly Workplace Recap from January 14 to January 20, 2022
COVID-19 & Legislation Updates | Weekly Workplace Recap from January 14 to January 20, 2022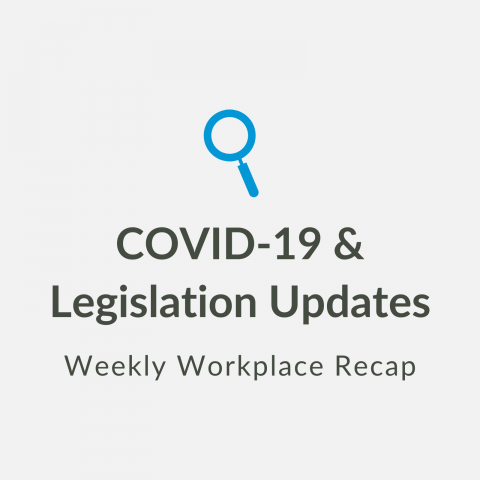 Sarah Visca | Jan 20, 2022

Below are the key COVID-19 & legislation topics that touch on the workplace from January 14 to January 20, 2022.
---
Federal
Inflation climbs to highest in more than 30 years, raising odds of rate hike next week
Canada's broadest measure of inflation climbed 4.8% in December from a year earlier, the largest increase in more than 30 years, raising the odds the Bank of Canada will hike interest rates next week to offset gathering cost pressures, and adding to the pressure on Finance Minister Chrystia Freeland to pare federal spending.
---
Ottawa looks for proposals for equal opportunity
Ottawa has launched the 2022 Open Call for Concepts for the Workplace Opportunities: Removing Barriers to Equity (WORBE) program, which aims to break down barriers in federally regulated workplaces.
Through the program, Ottawa provides up to $3 million annually in funding for projects that help federally regulated employers across the country become more representative and inclusive. This year, the call for concepts requires projects to focus on one or more of the four equity-seeking groups within federally regulated sectors with low representation: women, Indigenous peoples, persons with disabilities and members of visible minorities.
The federal government's call for concepts is open to:
federally regulated private sector employers and industries

employer

associations or councils
sector associations or councils
unions
non-governmental organizations
not-for-profit organizations
academic institutions
Applicants have until Feb. 15, 2022 to submit their project concepts through this website.
---
Ontario
Applications now open for Ontario Business Costs Rebate Program
Eligible businesses required to close or reduce capacity due to the current public health measures put in place to blunt the spread of the Omicron variant of COVID-19 can apply for the new Ontario Business Costs Rebate Program starting Jan. 18.
Through the new program, the government will provide eligible businesses with a rebate payment of up to 100% for property tax and energy costs they incur while subject to these restrictions.
---
Ontario outlines three-step plan to loosen restrictions
Effective Jan. 31, 2022 at 12:01 a.m. Ontario will begin the process of gradually easing restrictions, while maintaining protective measures, including but not limited to:
Increasing social gathering limits to 10 people indoors and 25 people outdoors.

Increasing or maintaining capacity limits at 50% in indoor public settings, including but not limited to:

Restaurants, bars and other food or drink establishments without dance facilities;
Retailers (including grocery stores and pharmacies)
Shopping malls;
Non-spectator areas of sports and recreational fitness facilities, including gyms;
Cinemas;
Meeting and event spaces;
Recreational amenities and amusement parks, including water parks;
Museums, galleries, aquariums, zoos and similar attractions; and
Casinos, bingo halls and other gaming establishments
Religious services, rites, or ceremonies.

Allowing spectator areas of facilities such as sporting events, concert venues and theatres to operate at 50% seated capacity or 500 people, whichever is less.
Further measures are set to come into effect on Feb. 21 and Mar. 14. See the full list of restrictions in the link below. 
---
Alberta
New Critical Worker Exemption in Alberta allows workers with COVID-19 to attend work
A new public health order that leaves it up to employers to decide which Albertans infected with COVID-19 should go to work is short on oversight and enforcement, health law experts say.
The "critical worker exception" order (Order 02-2022) lets employers judge, with few conditions, whether the service they provide is critical and which of their COVID-positive employees are essential.
Here's a few key things to note about this exemption:
Critical workers who are symptom-free or have mild symptoms can be called back to work. 
There is no application process for the exemption, and return-to-work plans will not be reviewed by any government department.
To qualify, a worker must: be part of a service of which a disruption would be harmful to the public, and, be determined by the owner or operator to be needed in-person for duties that are essential to the continued safe operations of the service.
Managers must also develop a safety plan to minimize the risk posed by COVID-positive employees.
Workers deemed essential are only allowed to leave isolation to complete their job duties.
Employees should remain masked when in contact with others and, whenever possible, work alone.
---
British Columbia
COVID-19 Closure Relief Grant funds doubled for eligible businesses
B.C. is extending the COVID-19 Closure Relief Grant and doubling supports for eligible businesses that have been ordered to remain temporarily closed through public health measures until Feb. 16, 2022.
Eligible businesses include:
bars, nightclubs and lounges that do not serve full meals; and
event venues that had to close due to cancellations.
Businesses that have applied for a COVID-19 Closure Relief Grant do not need to reapply. To apply for a grant, visit the official closure relief grant webpage.